2018: A Difficult Year For Gold
January 2019
By Joe Foster, Portfolio Manager and Strategist, VanEck
Excluding December, it was a difficult year for gold and gold stocks.
The U.S. dollar was stronger than expected in 2018, which created a major headwind for gold. The U.S. economy received a boost from the Trump tax cuts and deficit spending, resulting in strong growth, low unemployment, and an annual gain of 4% for the U.S. Dollar Index (DXY). Investors showed little interest in gold investments amid the booming economy and stock market highs.
Weak fundamentals caused the gold price to fall through technical support to its yearly low of $1,160 in August.
U.S. Dollar Index vs. Price of Gold for 2018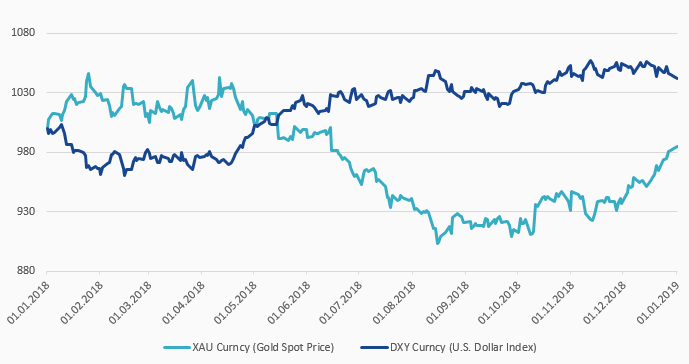 Source: Reuters GFMS, World Gold Council, Bloomberg, VanEck Research.
However, gold cut its losses late in the year, as market sentiment seemed to change to favor gold. Gold ended 2018 with an annual loss of just $20 (1.6%).


About the Author:

Joe Foster has been Portfolio Manager for the VanEck International Investors Gold Fund since 1998 and the VanEck – Global Gold UCITS Fund since 2012. Mr. Foster, an acknowledged authority on gold, has over 10 years of dedicated experience in geology and mining including as a gold geologist in Nevada. He has appeared in The Wall Street Journal, Barron's, and on Reuters, CNBC and Bloomberg TV. Mr. Foster has also published articles in a number of mining journals, including Mining Engineering and Geological Society of Nevada.
The article above is an opinion of the author and does not necessarily reflect the opinion of MV Index Solutions or its affiliates.