Supermajor Deals Conclude
April 2019
By Joe Foster, Portfolio Manager and Strategist, VanEck
Following the announcement of the joint venture (JV) between Newmont and Barrick, investors then turned their attention to the friendly Newmont/Goldcorp merger announced in January. It stood to reason that Goldcorp shareholders were not entitled to the Nevada JV synergies, which did not exist at the time the deal with Newmont was announced.
Again, at the urging of investors, Newmont decided to award a 2.5% special dividend to its shareholders as a partial upfront payment for future Nevada synergies. The dividend would be distributed if the Newmont/Goldcorp deal was approved by shareholders.
On April 4, Goldcorp announced that over 97% of its shareholders had voted for the merger at a special meeting in Vancouver. About 98% of Newmont shareholders approved the deal on April 11.
And, on April 18, Newmont Goldcorp Corporation (NYSE: NEM, TSX: NGT) announced the successful conclusion of the transaction combining Newmont Mining Corporation and Goldcorp to form the world's leading gold business.
Newmont Mining vs. Barrick Gold Corp vs. Goldcorp Inc.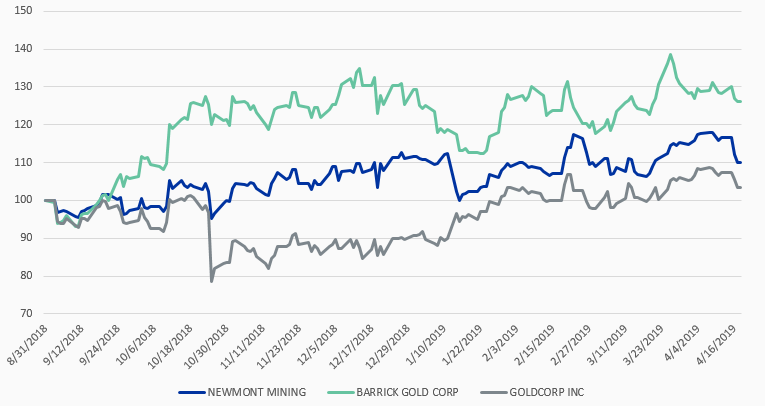 Source: Bloomberg.
About the Author:

Joe Foster has been Portfolio Manager for the VanEck International Investors Gold Fund since 1998 and the VanEck – Global Gold UCITS Fund since 2012. Mr. Foster, an acknowledged authority on gold, has over 10 years of dedicated experience in geology and mining including as a gold geologist in Nevada. He has appeared in The Wall Street Journal, Barron's, and on Reuters, CNBC and Bloomberg TV. Mr. Foster has also published articles in a number of mining journals, including Mining Engineering and Geological Society of Nevada.
The article above is an opinion of the author and does not necessarily reflect the opinion of MV Index Solutions or its affiliates.