U.S. Rig Count Rises Faster
February 2016
By Shawn Reynolds, Portfolio Manager, VanEck
The last several months have seen some significant events in energy market. In particular, both OPEC and non-OPEC producers cut deals to reduce production in December. Oil prices subsequently rose. Despite this, though, there has been admirable compliance. This says much about the resurrected OPEC, because compliance in the past has been defined by those who cheated the least.
When I wrote last, at the start of October last year, the U.S. combined oil and gas rig count had only crept up over the previous four months. Through October and November, however, the count started to pick up, and the pace quickened noticeably through the end of January this year. Even more importantly, outlooks from both operators and E&P companies suggest that an even steeper increase could be in the offing.
If the pace continues, we may actually have a rebound that could initiate a new drilling boom.
U.S. Oil and Gas Rig Count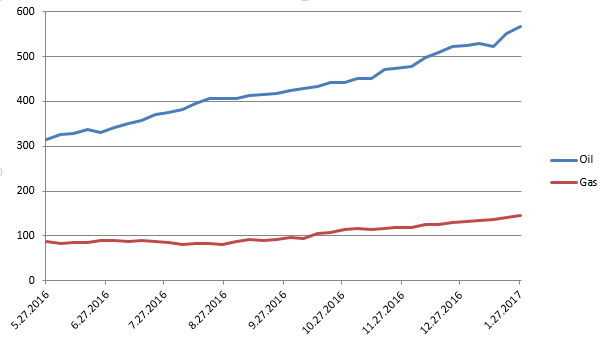 Source: Baker Hughes1
About the Author:

Mr. Reynolds joined VanEck in 2005 as senior analyst focusing on energy, and currently serves as portfolio manager of VanEck's natural resources strategies. Prior to joining VanEck, he was employed at Petrie Parkman & Co. as an energy analyst covering U.S. oil and gas exploration and production companies. From 1991 to 2001, Mr. Reynolds covered North American, European and global energy companies out of New York, Australia and London with Goldman Sachs, Lehman Brothers, and Credit Suisse First Boston. Prior to his career in finance, Mr. Reynolds worked at Tenneco Oil Company from 1987 to 1989 as an exploration geologist.
Mr. Reynolds received a bachelor's degree in engineering from Cornell University in 1985, a master's degree in petroleum geology from the University of Texas, Austin in 1987 (Phi Kappa Phi), and an MBA in finance from the Columbia Business School in 1991 (Beta Gamma Sigma). In 2000, he was chosen as The Wall Street Journal's «Best on the Street» for E&P stock selection, and was recognized as «Best Up and Comer», E&P Sector, for Institutional Investor magazine's 1999 All-America Research Poll. Mr. Reynolds has also authored several technical geology articles published in periodicals such as the American Association of Petroleum Geologists.
The article above is an opinion of the author and does not necessarily reflect the opinion of MV Index Solutions or its affiliates.
Footnotes:
1
http://phx.corporate-ir.net/phoenix.zhtml?c=79687&p=irol-reportsother