Why isn't the Gold Price Higher
May 2022
By Joe Foster, Portfolio Manager and Strategist
… given everything that is currently going on in the world?
Gold has been in a secular bull market since December of 2015, when it bottomed at around $1,050 per ounce. Gold's performance so far is no match for the other secular bull markets in the '70s and the 2000s. The current bull market is driven by similar macro-economic and geopolitical risks, with some drivers made worse by the pandemic.
There is one stark difference that may explain the weaker gold performance so far in this bull market. The U.S. dollar was in a secular bear market in both the '70s and 2000s. From 1971 to 1978, the DXY1 declined 45% and from 2002 to 2008 it fell 41%. However, since December 2015, the DXY has gained 5.2%, as it has bounced around in a sideways trend that is currently testing its 20-year high. While gold and the U.S. dollar sometimes trend higher together in periods of acute financial stress, the normal relationship is inverse.
We believe the firm dollar has muted gold's advance in the current bull market. And, while we believe gold prices are heading higher, until the dollar trends lower, gold may not see the spectacular gains of past secular bull markets.
MVIS Global Junior Gold Miners Index
30/04/2021-20/04/2022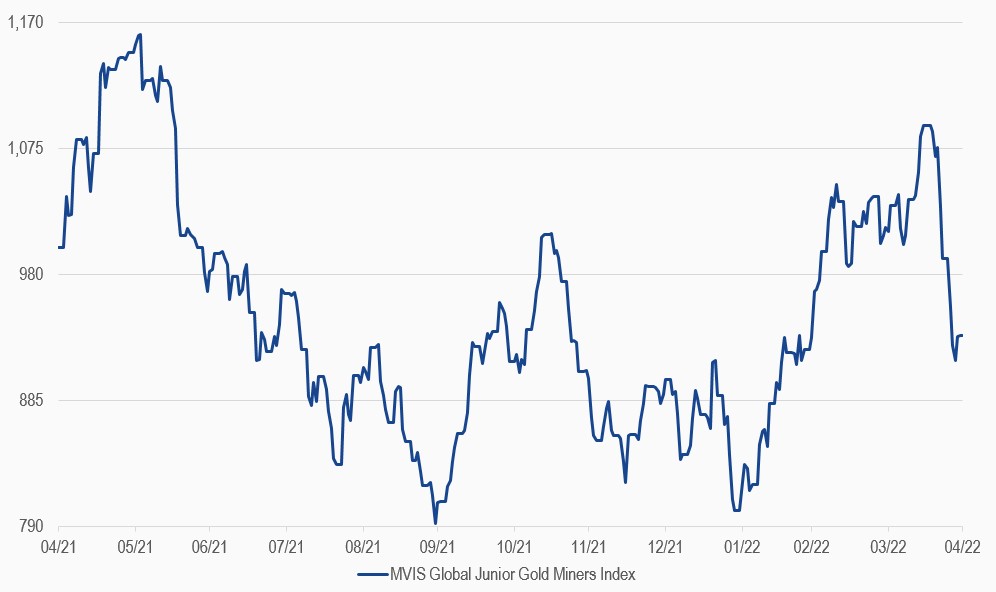 Source: MarketVector Indexes. All values are rebased to 1,000. Data as of 30 April 2022.
1Source: U.S. Dollar Index ("DXY") indicates the general international value of the U.S. dollar by averaging the exchange rates between the U.S. dollar and six major world currencies.
About the Author:
Joe Foster has been Portfolio Manager for the VanEck International Investors Gold Fund since 1998 and the VanEck – Global Gold UCITS Fund since 2012. Mr. Foster, an acknowledged authority on gold, has over 10 years of dedicated experience in geology and mining including as a gold geologist in Nevada. He has appeared in The Wall Street Journal, Financial Times, Barron's, and on Reuters, CNBC and Bloomberg TV. Mr. Foster has also published articles in a number of mining journals, including Mining Engineering and Geological Society of Nevada.
The article above is an opinion of the author and does not necessarily reflect the opinion of MarketVector Indexes or its affiliates.